Audit plan and audit program template – Your support in auditing
If you work as a quality manager in a food company, you know that conducting internal audits is an essential task. Structured planning is the be-all and end-all. Here comes ours Audit plan and audit program template comes into play to support you effectively.
Download now: Practical training LMS template for audit plan and program with practical tips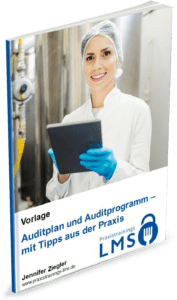 Enter your email address here to receive the template:
Order our exclusively developed Excel template now, which not only helps you create an annual plan, but also provides valuable services in the detailed planning of individual audits.
The template offers you:
Information page: Find out how you can use the template optimally for your purposes.
Annual plan: Here you can clearly plan your audit program for the whole year - supported by five tried-and-tested tips for successful implementation.
Individual audit plan: A structured overview with all relevant data for every audit - from dates and participants to the specific content. You will also benefit from five practical tips for successful implementation.
Would you like to further your education? Become an internal auditor
We regularly update our food safety downloads. Our newsletter will keep you up to date. Therefore, with the order you trigger a registration for the newsletter. The deregistration is possible at any time.
More downloads, webinars, podcasts: